Writing Personal Experience Stories – February 4, 2023 Click here to register!

In addition to publishing 12 books, I praise God for the over 1,000 sales I've made to Christian periodicals. The bulk of my writing has been from personal experience. In this 90-minute webinar you'll learn the essentials and pitfalls of writing life-changing personal experience stories God can use to change lives.
Click here to print the writer's checklist below to see what will be covered. Cost - only $14.95. After February 1, $17.95. The webinar video will be available afterwards. Click here to register. And tell your friends!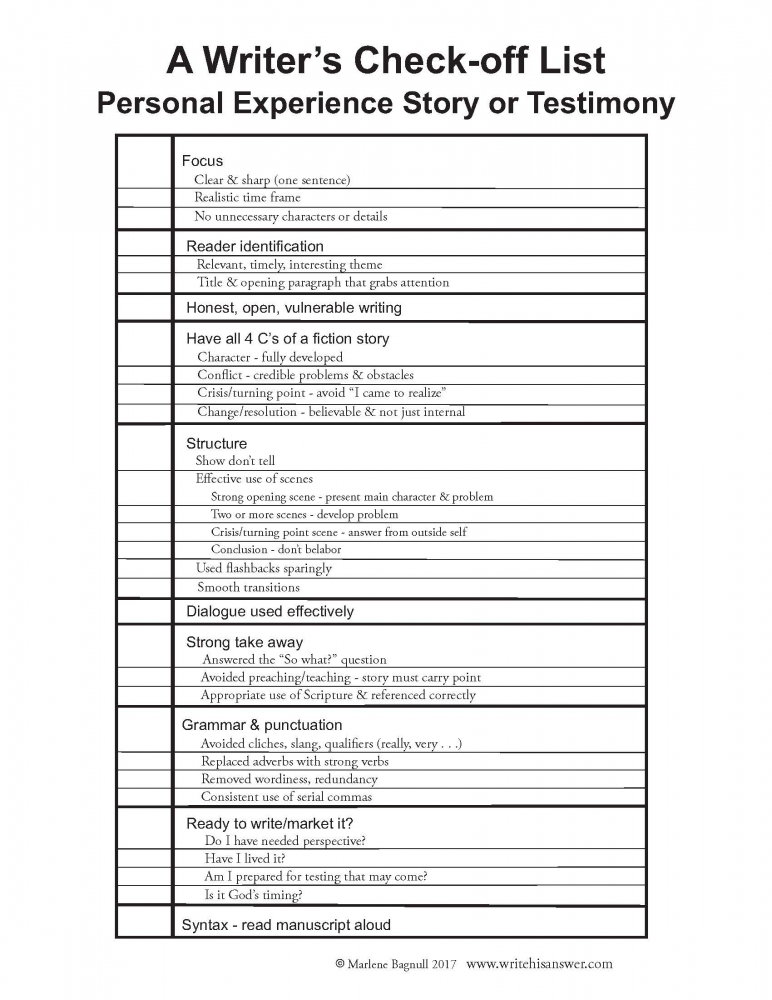 ---
Going Indie – January 14, 2023 Click here to purchase the video and PowerPoint slides.
You CAN get your book in print!
"For such a time as this" God has provided the technology to indie publish. But is this the best option for you? How can you avoid making a costly mistake? Join me Saturday, January 14 (11 am Eastern Time (10 am CT, 9 am MT, 8 am PT) for a 90-minute webinar on Zoom of the need-to-know info below including Q & A. The $14.95 registration fee (click here) includes lifetime access to the video. After January 10 the price increases to $17.95.
Going Indie Webinar Outline
Traditional vs Indie?
Advantages / Disadvantages
Why go indie?
Cautions
https://victoriastrauss.com/writer-beware
https://justpublishingadvice.com
Cooperative, Subsidy, Hybrid?
Go Indie – Do it yourself or build a team?
Christian Indie Publishing Association - https://cipa.podia.com
How-to & cost – See https://writehisanswer.com/booksforwriters, Indie Publishing
Study the craft
Books, courses, coaches
Don't run ahead of the Lord
Critiquing
Christian Writers Market Guide
Write His Answer Ministries – Thursday morning & evening group meets every other week
Editing
Self-edit - Christian Writers Manual of Style and Editing Secrets of Best-Selling Authors
Create a style sheet / check-off list
Hiring a professional editor is NOT optional - Christian Writers Market Guide
Typesetting & layout
https://www.bookdesigntemplates.com
Scrivener, Vellum (MAC), InDesign, Quark . . .
Books - How to Format Your Book in Word (Important to use Word's "Styles")
Amy Deardon - https://www.ebooklistingservices.com
Proofreading - Multiple eyes needed!
Book - Proofreading Secrets of Best-Selling Authors
Cover design (front and back)
Do it yourself cautions
Recommend https://99designs.com and do Google search
Obtain ISBN & bar code
Bowker Identifier Services - https://www.myidentifiers.com
Set price – Factor in cost of above plus
Printing - https://kdp.amazon.com, https://www.ingrampublisherservices.com
eBook, POD, offset printing
Binding – saddle stitch, perfect bound, wire bound
Shipping
Distributor cost / discount
And critical to include cost of marketing
Marketing – Important, do NOT wait until publication to build your platform
See https://writehisanswer.com/booksforwriters, Marketing
Website, blog, flyers, postcards, trailer, ads . . .
Courses - Book Launch Blueprint or Obscure No More – Thomas Umstattd Jr.
Q & A
Trust in the LORD with all your heart;
do not depend on your own understanding.
Seek his will in all you do,
and he will show you which path to take.
Proverbs 3:5-6 NLT