Are you battling self-doubts, writer's block, rejection slips, procrastination?
Thirty-three chapters (172 pages) to help you "write His answer" and get your work in print.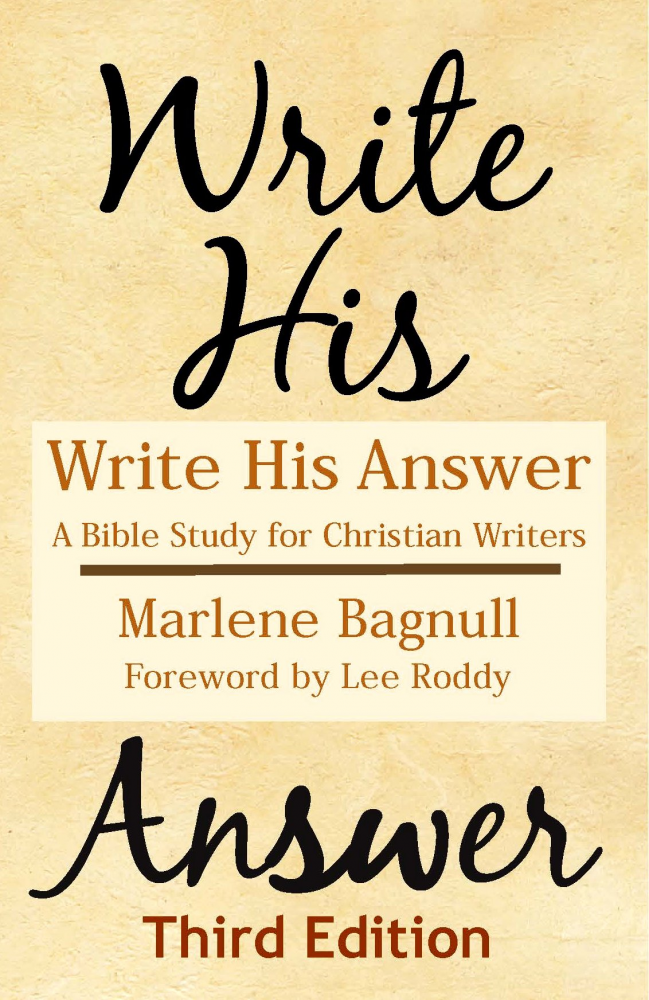 In print over 30 years!
Practical help and encouragement for overcoming self-doubts, writer's block, rejection, procrastination, and more with Scriptures to study, questions to apply the message to your life, and space to write your response.
I am so thankful for the weekend writing conference you did in little Peshtigo, WI, quite a few years ago. You were informative, helpful, and very encouraging. Yesterday I came across the Bible Study for Writers that I purchased from you then, and I'm going through it again--all the way this time--and comparing my answers from back then. You truly are a blessing as you follow God's very definite calling in your life!" ~ Kathi Bloy
This book had a profound effect on my life. I have shared it with many folks. Thank you for putting pen to paper and teaching me how to listen for His voice. Bless you! ~ Nan Trammell Jones

This book changed the way I write. I plan to read it again. ~ Danni Andrew

Write His Answer is not just a book to read and put down . . . I keep my copy close to my manuscript and journals, dog-eared and tattered from use. I purchased the original version years ago at the Greater Philadelphia Christian Writers Conference when I had no idea how to begin a writing ministry. Although I'm excited about getting the new edition, my first copy filled with personal notes is simply irreplaceable. More than a devotional or a "how-to-and-continue-on" manual, Write His Answer is written by a woman who knows the heart of God and the heart of a writer. This has been a rich resource to encourage and challenge me to respond and remain faithful to God's call and use His Word as my guidance for every page. This is a classic . . . for keeps. ~ Verna Bowman

Click here for review on Author Culture by Jimmie Kepler.

Third Edition with updated resources published by Ampelos Press, 2014

176 pages Retail $13.99 Special price – $10 plus $4 shipping
Order $35 from the Write His Answer Bookstore and shipping is free!

Also available on Amazon in print for $13.99 and as an ebook.

Excerpts from Write His Answer
"Look to Jesus" (Chapter 2)
"Making It Happen" (Chapter 3)
"Overcoming Procrastination" (Chapter 9)
"In Dry Times" (Chapter 15)
"Crisis of Confidence" (Chapter 23)
"Conquering the Deadly Ds" (Chapter 26)
"Prepare the Way" (Chapter 30)
Called to "Write His Answer"
Laying a Biblical Foundation for Your Writing Ministry
Helps for Forming Critique Groups
The Critique Process

~ * ~ * ~
This book can change your life.
It not only gives ongoing encouragement to respond to God's call to write,
but helps you keep on writing.
Lee Roddy, Best Selling Author

This excellent introduction to successful Christian writing
gives the beginner an intimate glimpse into the life of a genuine 'pro.'
Sherwood E. Wirt, Editor Emeritus
Decision Magazine

I met you many years ago at a writer's conference. I purchased your book in 1990, Write His Answer. I love my book. Grab a chapter from time to time. But this morning I took it out and went right to chapter 5. How timely it is. What hit me is that you talk about Christians putting on the armor, because "Things are changing—rapidly." This chapter is so relevant to today. Oh, how we need to put on the whole armor these days. We did not even imagine in 1990 what would be happening in America in just 22 years. Thank you for your hard work which is such an encouragement to me, still a writer.
Barb Johnson - November 2012

I just finished rereading your book Write His Answer for the third time and wanted you to know how much I appreciate your message. It continues to amaze me how I would read a chapter on a topic just when I needed it. God is good! And He is using you to encourage writers over and over again. Thank you for being His messenger.
Jeanie Wise, Ohio

"This is the best devotional for Christian writers I've seen. You'll want to be sure and get it from our back table." That statement from Reg Forder at the ACW (American Christian Writers) conference in Atlanta certainly got my attention. The back table (consisting of MANY tables) overflowed with terrific writing books. I added Write His Answer to my pile. Arriving home, I downloaded (dumped all the bags) information from the writer's conference. Sorting through my piles...I came across the devotional book. Unique and on-target it was. That was a year ago, and the book is now my book, every page marked, noted, color-coded. If you are a fresh, beginning writer, well-worn seasoned one, or somewhere in between, this is the book for you. Marlene is a writer's writer, and most precious, she writes for The Writer.
Lynda Tinnin Young
Kindred Spirits International
(Conferences, Publications, and Ministries)

~ * ~ * ~
Write His Answer is also a great group study resource.
Just wanted to let you know that our writers' Bible study group is so glad you wrote Write His Answer. We appreciate you baring your soul. We all relate and are encouraged by your book. All of our members reading your book are writing more, and one got through writers' block.
Nancy Dutton, Louisville, CO

Write His Answer has been wonderful for our Christian Writer's Fellowship. We use this as a devotional at each meeting. Different members sign up to give the devotion at the beginning of our year. We go from chapter to chapter. It is amazing what truths different people see in the same chapters. Thank you so much for writing this book. We are sure the Lord meant it for us.
Carol Russell
Fellowship of Christian Writers, Girard, KS